After a promising 8-8 season in 2010, the Oakland Raiders are looking for a winning record in 2011.
Though the playoffs are unlikely for this team, a 9-7 season isn't out of reach.
We'll learn a lot about the Raiders during the preseason, such as:
Will Jason Campbell be a decent QB?
How much will the loss of TE Zach Miller hurt?
Can Darrius Heyward-Bey become a good NFL WR?
So, without further ado, let's take a look at some key preseason issues for the Oakland Raiders.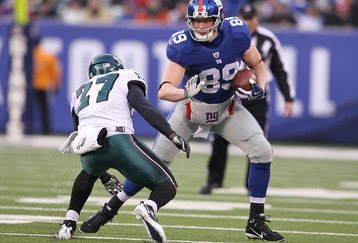 Al Bello/Getty Images
The Oakland Raiders like to use their tight end in the passing game.
Though they lost TE Zach Miller to the Seattle Seahawks this offseason, they gained another pretty good TE in former New York Giant Kevin Boss.
In three of his four professional seasons, Miller had more than 50 catches.
It'll be interesting to see how well Boss handles the expanded role. When he was with the Giants, they didn't use him much in the passing game.
His career high is 42 catches.
But, the Contra Costa Times predicts Boss will have a big impact on the Raiders this season:
"The Raiders are going to be just fine with Kevin Boss at tight end now that Zach Miller is toiling with the Seattle Seahawks. That much became evident in Boss' first practice since signing with the Raiders on Friday.

Boss is tall, fast, and he has sure hands. There's no reason to think that he won't at least double the 30 receptions he averaged in his four seasons with the New York Giants."
Boss is much more talented than he appeared to be while on the Giants.
He should be able to make a seamless transition to the new offensive scheme and should be a good option for QB Jason Campbell throughout the 2011 NFL season.
It will be interesting to see how well Campbell and Boss click during the preseason.
A good tight end can be a quarterback's best friend. Campbell would be smart to work Boss into the offense early and often.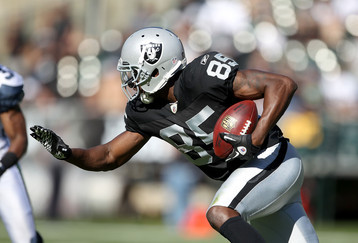 Ezra Shaw/Getty Images
The Oakland Raiders shocked everyone when they selected Darrius Heyward-Bey with the seventh overall pick in the 2009 NFL Draft.
Everyone expected Michael Crabtree to be the first WR taken in that draft, but he went No. 10 to the San Francisco 49ers.
But, things have been tough for DHB in the NFL so far.
Last season, despite playing in 15 games, DHB only caught 26 passes for 355 yards and one touchdown.
Despite his struggles, Raiders head coach Hue Jackson sees a big year for DHB, who has looked good in training camp according to the San Jose Mercury-News:
"Darrius Heyward-Bey weaved his way across the middle of the field past a pair of linebackers, caught a quick throw from quarterback Jason Campbell, then burst upfield for a big gain.

Plays like that in training camp have been common for the Raiders' wide receiver since he entered the NFL two years ago. Duplicating it in games has been another story altogether.

The former first-round draft pick is determined to change all that."
DHB's speed gives him a huge advantage if he learns how to run routes and catch passes consistently.
If he gets in the open field, he's going to score a touchdown.
We'll see if he gets any action in the Raiders' first preseason game against the Arizona Cardinals on August 11. He's been battling an injury that had been limiting him in practice.
But, he's healthy now, so he should be close to ready for the first preseason game.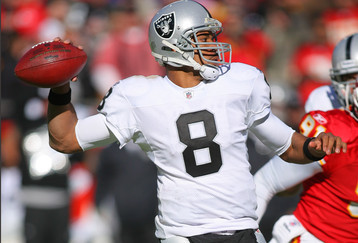 Tim Umphrey/Getty Images
Jason Campbell has had a disappointing NFL career so far.
But, early indications from Oakland Raiders' training camp are positive.
The San Jose Mercury-News reports that Campbell is getting pretty comfortablewith the Raiders' offense:
"For the first time in his NFL career, Jason Campbell is ahead of the curve.

Instead of the yearly task of assimilating a new system, the Raiders quarterback has the perspective of playing a second season in coach Hue Jackson's offense, with the bonus of having already been exposed to the new wrinkles infused by offensive coordinator Al Saunders.

There is even a hint of excitement in Campbell's voice when he talks about the Raiders' scoring potential — no small detail considering he seldom sounds excited about anything."
Campbell appears to have the job to himself, something he hasn't had in the past.
He's always either been battling for his job or learning a new offense.
Now that he's doing neither this season, he could end up having a pretty good year in 2011.
We'll get our first look at Campbell on Thursday against the Arizona Cardinals.
Expect him to take a big step forward this season.